Palmela Out Antique Hunting; It's Not Just The Things We Buy, it's the memories we make getting them.
We were on a mission to study Asian furnishings from the post war era and had some shops in mind that might carry items of interest.  But it's difficult for us to travel more than a mile in any direction on a weekend without stopping at an estate or garage sale, flea market or antique store.
allegedly Our travel carried us about thirty miles from home so it was imperative that we lined up a few yard sales from our local newspaper, and decided which antique stores to shop on the way back. The trip out took longer, since we found many yard signs along the way. Not any finds to add to our collections, and little to sell, so we trod on to our listed sales from the morning's newspaper, guided by the trusty and rather insistent voice of Ursula, our GPS lady.  The list yields only a scant array of collectible items as we skipped some on our list with baby items and old TV's in the driveway.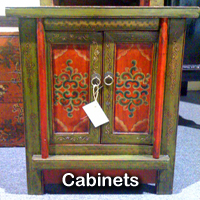 We arrived at the Asian antique store for our research project noting current prices of the store's wonderful items.  The owner is pleased to discuss the aspects and features of his selection of fine antiques, and we learn a good deal of information. As we left, we thanked the proprietor .
Several more yard signs later and it was past lunch time, and here is where we add to each outing.
We always try to find a locally owned restaurant. On several occasions we have taken the advice of a shop owner and found a delightful little coffee shop or cafe near an antique store. The decor is often 30s-40s soda fountain style in the smaller towns, which adds to the nostalgia aspect of our antique hunting.
On other trips we spot something that looks good and pop in to see the place.

I must mention a visit to the LaClare Farms, a goat farm that has its own cafe and cheese shop.  The food was good and it was great fun overlooking the vast array of milking machines in a massive barn. That was quite the sight.

This trip took us to Burkes Lakeside in Summit (Oconomowoc), WI. Finding it was pure accident, as we took some back roads Ursula the GPS directed us to take on our way to the Fox Lake Country antique store. The restaurant was very large and crowded on a lovely summer afternoon. Great food, service and atmosphere, we love sitting outside when we can!
Today our adventure took us to the Lake Michigan shore communities, south of Milwaukee.  Again hunting for antiques for our collections, especially a search for wall pockets to complete a grouping in our newly painted living room.  Oh, we managed to find items to sell at our next set-up at the Elkhorn Antique Flea Market in Elkhorn, WI.  But alas, no wall pockets, so our hunt will continue.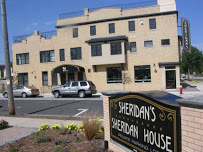 But as luck would have it, we did find a great restaurant, The Sheridan's Boutique American Bistro at 5133 S. Lake Dr. in Cudahy WI.  Just a wonderfully decorated place with great food for a delightful lunch before continuing on with our antique hunting.
Good food will always draw us back the next time were in the area, and part of our thrill of the hunt is finding great places to enjoy good food  and good service.
The purpose of our adventures may be the continual search for great antiques and collectibles, but it's more fun when you have discovered new places to return to with friends for a relaxing meal of great eats, good service and pleasant surroundings, and a long chat about the productive antique hunt.